Who's back? Laddie (LM12), Maya, one of her sons and…
Lots of early returners this year.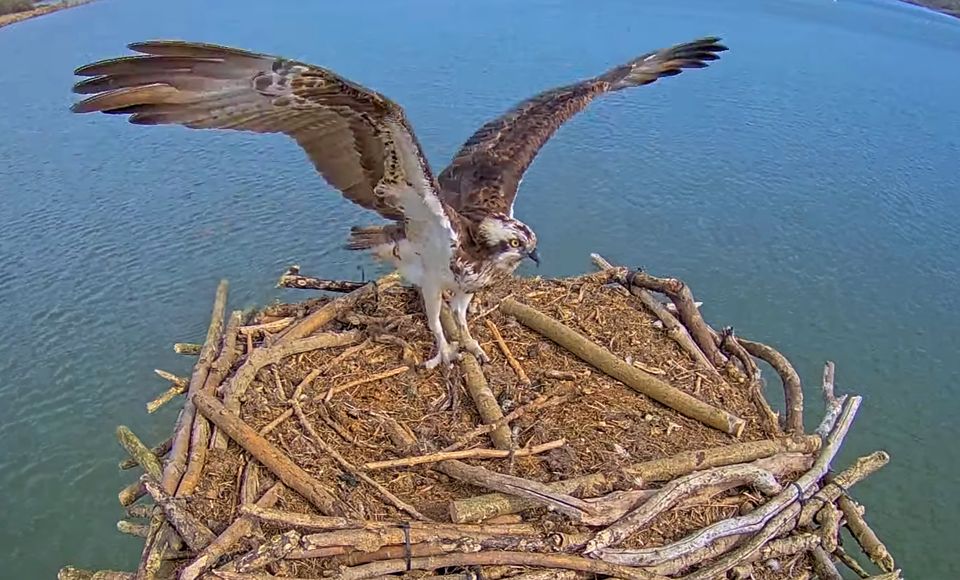 Monday 14th
With ospreys starting to pop up on live-streamed nests, we waited to hear if any of them were familiar birds. And one of them was…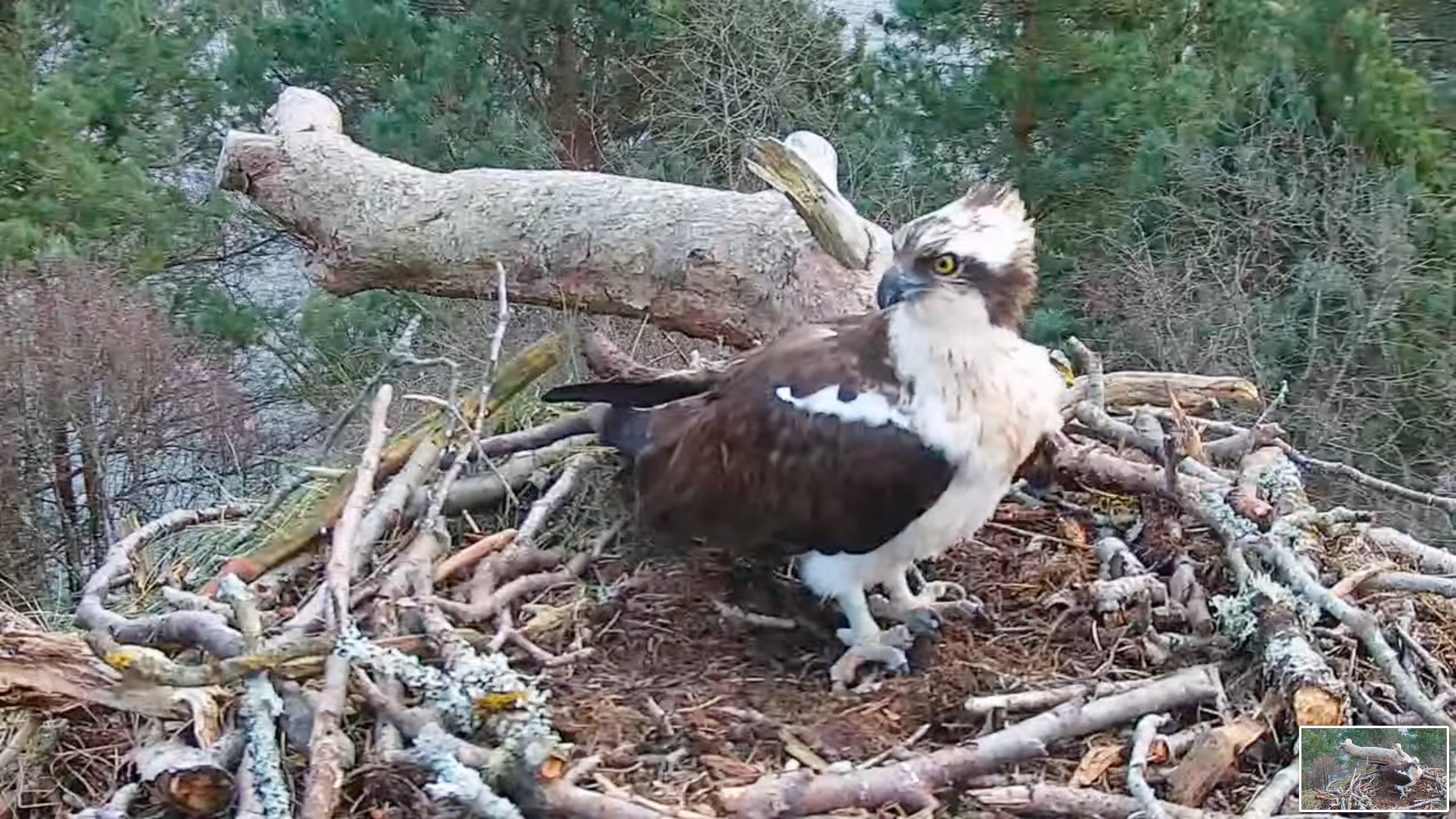 Tuesday 15th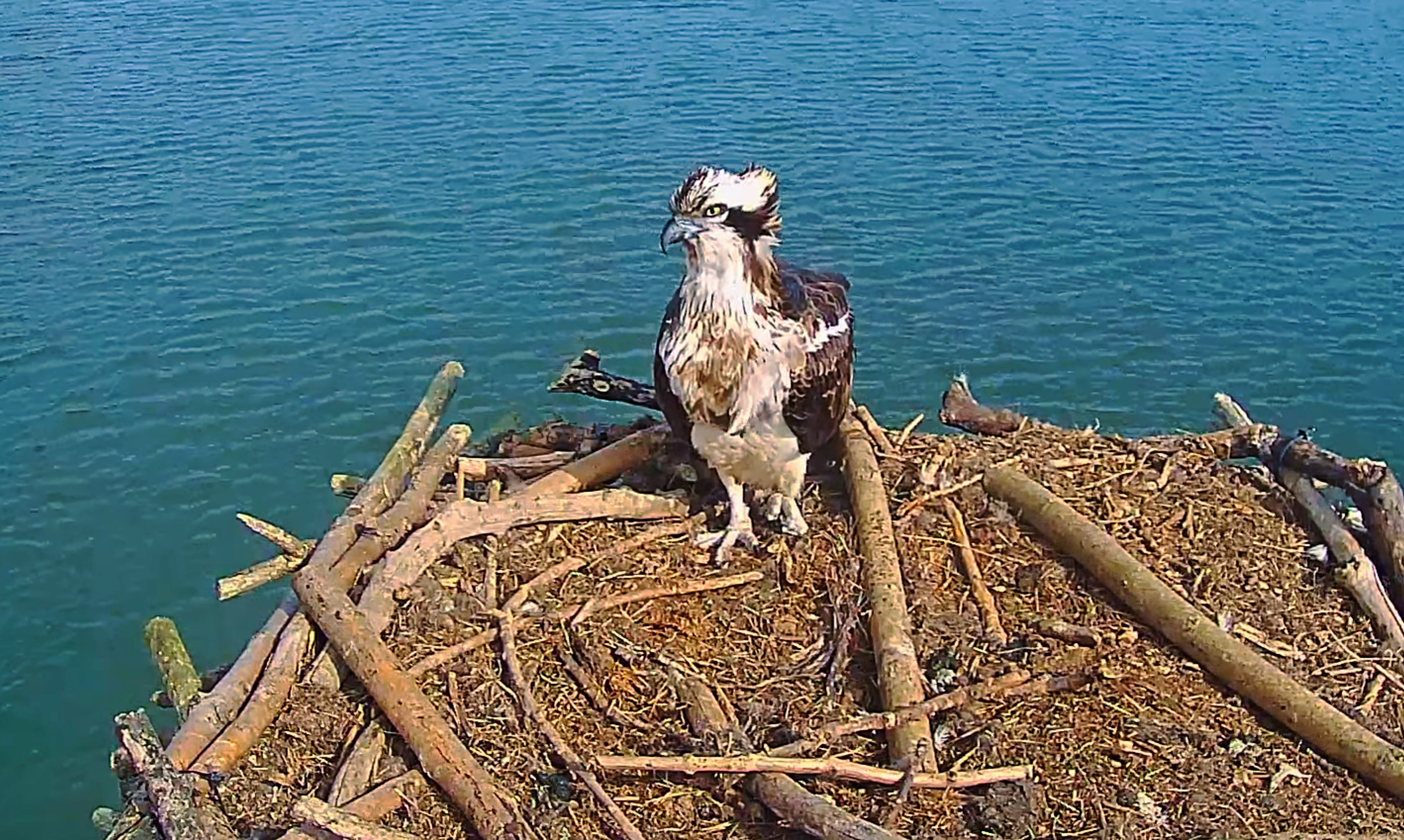 Maya, the resident female at the Manton Bay nest, is first seen back on the nest. This will be her 13th year breeding on this nest, and her 8th with Blue 33, if he returns…
Wednesday 16th
A possible osprey appears in the distance at the Loch Arkaig webcam:
Later behaviour suggests it was a different raptor, alas.
Thursday 17th
So, who was that mystery osprey mentioned on Monday? It was 8F(12), a 12 year old male from the Manton Bay nest. His mum was Maya, who is still the resident female on the nest. He now breeds at a nearby nest on private land.
Friday 18th
The Brenig Osprey Project is looking for volunteers:
You could help to protect the ospreys by:
> Watching the osprey nest between the hours of 6pm and 8am, using online footage from the safety of your own home
After last year, this is not a surprise.
Saturday 19th
While there's a dearth of new ospreys after the early arrivals, at least there's some reading matter from Dyfi, with five things you need to know:
Sunday 20th
Rutland provides us with non-arrival news: one tracked osprey has yet to leave on migration:
Monday 21st
Two big pieces of news today.
Twice the Arkaig fun
First of all, there's some exciting news from the Woodland Trust about their Loch Arkaig nests. Later this week, they'll be switching on a second camera — on the nest that resident male Louis and his new mate Dorcha used last year.
This is the view: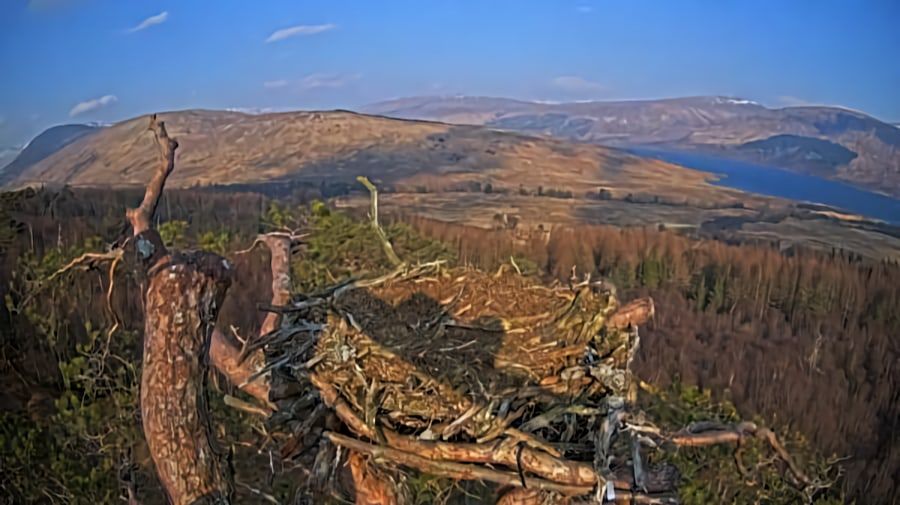 This was a big surprise. The general consenus when Louis moved was that putting a camera on this nest wouldn't be feasible. But, as the WT's George Anderson put it:
Jason from Wildlife Windows looked into it and reckoned it was feasible. The critical factor was having somewhere to put the solar panels to get enough energy. Final confirmation that it would all work was quite recent.
33 is back
Just under a week after his mate, the resident male in back at Manton Bay:
He and Maya started renewing their bond pretty quickly:
So, with our first live-streamed nest couple reunited, the count-down to the first egg laying begins…
---
Is there an EJ dynasty?
While we're waiting for more Ospreys to arrive, some happy news from Loch Garten. EJ, the much-missed matriarch of the nest, fledged 25 chicks but not a single one was ever seen again.
Until now:
In a strange twist of fate…not all of EJ's offspring perished. There is now officially proof that at least one has survived. The leg ring that Alison had been chasing was 'YELLOW/BLACK 27' belonging to a chick ringed 17 years ago and is still presiding on the leg of an osprey that was now enjoying middle age on the Scottish coast.
So, one bird has been returning for a decade and a half. Let's hope that means that EJ's genes live on in generations of grand children and great grandchildren.
Read the whole story:
---
Not Ospreys
Every year, we see that Egyptian Geese find osprey nests quite attractive…
---
🤞🏻 for more familiar birds to return this week.